How rich is Duff Goldman? Know about his career and awards
Updated On 06 Jan, 2017 Published On 06 Jan, 2017
Lastly, Duff Goldman is an American chef, TV personality and food artists with a total net worth of $5 million. While, he began to work in kitchen at the age of 14, his first job was at Bagel Shop at mall.
Duff Goldman is a 42-year-old popular American chef, television personality, and a food artist. He is the executive chef of the Baltimore and is one of the most sought-after cake makers in the country.
He is a popular and hardworking baker and chef with a net worth of $5 million. He began to work in the kitchen at the age of fourteen. Let's find out more about his net worth and career below.
How rich is Duff Goldman?
He accumulated all his net worth as a popular TV star of the Ace of Cakes and through another very popular cooking show, talk shows as well as television sitcoms.
Additionally, to this, he is the owner and executive chef of the Baltimore-based Charm City Cake Shop which was shown in the show of 'Food Network the Ace of Cakes'.
Source: foodnetwork
He has also made few presence on TV shows. In 2012, he was also a guest on 'MTV's Ridiculousness'. He himself performed on YouTube Channel "Smosh".
Duff Goldman's Career:
He has been cooking since the age of four, when his mother caught him in the kitchen swinging the meat chopper while watching Chef Tell on TV.
Professionally, he began to work in the kitchen from the age of 14 at a Bagel Shop at the mall.
He worked at several admired culinary destinations, including the French Laundry, Todd English's Olives and the Vail Cascade Hotel before returning to Baltimore in 2000.
He resigned his job and opened 'Charm City Cakes' in March 2002. He was able to show off his originality, which came from a long line of creative genes.
Moreover, Duff and his team opened a second bakery location, Charm City Cakes West in Loss Angles.
Source: chicagotribune
Baltimore City Paper included him on its best of Baltimore list in both 2002 and 2003. His celebrity customer list includes Hillary Clinton, Alice Cooper and so on.
Chef Goldman has been featured on Oprah, Iron Chef America, Food Network Challenge and The Tonight Show.
He has also released his cookbook, 'Duff Bakes' on November 4, 2014, which includes 135 recipes, including white chocolate blondies, nutter butter cookies, cereal bars, savory bread pudding and much more.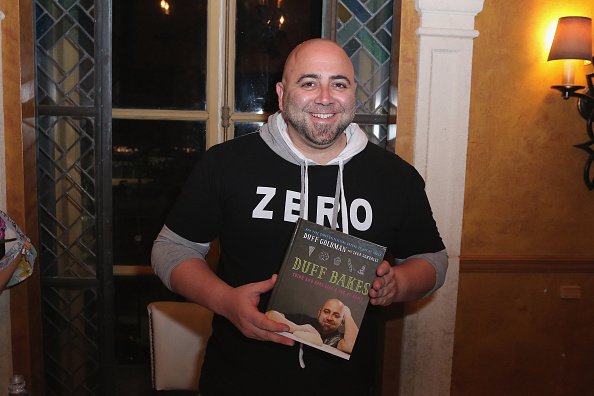 Source: Gettyimages
He has also appeared on the television series King of the Hill and Imagination Movers. He played a comedian in a movie called 'Below the Beltway'.
Similarly, he is a sculptor and artist, and a musician who played bass guitar in the rock band 'Soihadto'.
Duff Goldman's awards:
He was nominated for the 'James Beard Foundation Award' for Best TV Food Personality/Host and Best Television Program in 2011.
He was also the Culinary Ambassador by the White House in 2012.
On March 30, 2008, Duff officially entered the 'Guinness Book of World Records' for baking the world's largest cupcake.
The massive cupcake weighed at 61.4 pounds (27.9 kg) and was over a 305mm foot tall. It was apparently 150 times bigger than the size of a regular cupcake.
The successful chef is also a loyal husband and a caring father, he and his wife have been married for a long time and they also have a child together.
We wish him all success and happiness in life.