Kerry Washington and her husband Nnamdi Asomugha, are expecting their second child
Updated On 27 Jan, 2019 Published On 29 Sep, 2016
Actress Kerry Washington and Nnamdi Asomugha are expecting their second child. This notoriously silent couple try to keep many things out of the media, news get flashed anyways.
Actress Kerry Washington and Nnamdi Asomugha are expecting their second child. Married since June 24, 2013, this couple always tries to keep their personal life private, however, let us talk about what we can put together from the truths that have been disclosed.
Kerry Washington and Nnamdi Asomugha attend Vanity Fair
Recently, the news was revealed that the couple is having a second child. Kerry revealed her baby bump at Met Gala in a Marc Jacobs Gown.
With that cute baby bump of hers, Washington arrived at the Red Carpet ever so boldly, in a black cutout dress.
Kerry Washington at the Red Carpet
Second child of Kerry Washington and Nnamdi Asomugha
Even after being a Hollywood Star, Kerry likes to keep her profile low. Their secret wedding itself says how private they like to be.
They tried to be as private as possible regarding their second kid until the baby bump grew big. The date has still not been confirmed but Kerry is doing a lot to prepare for her little boy or girl.
#AboutLastNight #Repost @simpsonstreet #SimpsonStreet x #ScandalFam. #Emmys
A photo posted by Kerry Washington (@kerrywashington) on Sep 18, 2016 at 11:33am PDT
#FashionFriday #KerryWashington #sagaftrafoundation Artist Inspiration Award 06.13.16 -kw's krew Dress @giambattistapr Shoes @sjpcollection #Stylist @erinwalshnyc #redcarpetkerry #giambattistavalli #sjpcollection #ErinWalshStyle
A photo posted by Kerry Washington (@kerrywashington) on Jun 17, 2016 at 10:33am PDT
Kerry has promised to be back on "The Scandal" after her delivery and although she is enjoying her break, she said that she could not wait to meet all of her co-stars.
With this, this Scandal actress has made it clear that media gossip does not really affect her and that her personal life is off-limits.
On 'The Ellen Show, ' she talked about how they were shooting feigning her non-pregnancy by hiding behind something or someone which makes her appear to be non-pregnant.
Secret Wedding of Kerry Washington and Nnamdi Asomugha
Kerry and Nnamdi dated for a year before their matrimony and their official wedlock was on June 24, 2013, in Hailey, Idaho. Their wedding was so secretive that only their close friends and family members were invited.
We cannot stay away from the fact that this couple has been rumoured for having problems in their marriage and they were going to get a divorce. However, those rumours died soon when a source confirmed that the split chatter was all false.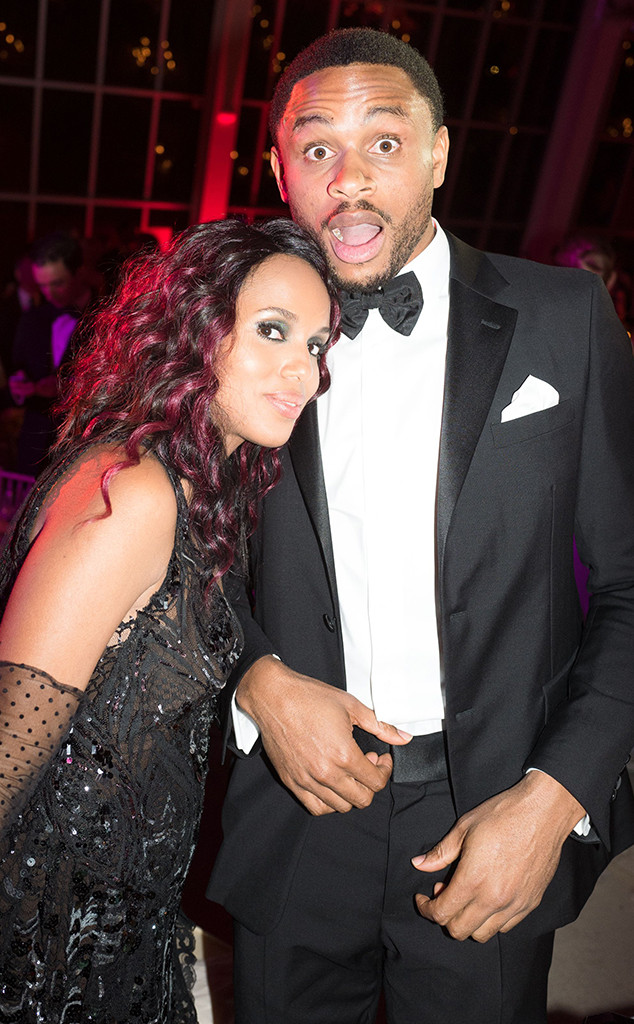 Kerry Washington and her husband Nnamdi Asomugha at an event
Professional Life of the couple
Kerry Washington, as already mentioned, is an American actress while Asomugha is a former American Football Cornerback.
Nnamdi Asomugha in one of his matches
Kerry is famous for her role as Olivia Pope in the ABC drama Scandal and also has been nominated twice for a Prime Time Emmy Award for Outstanding Lead Actress in a Drama Series.
Nnamdi, on the other hand, was considered one of the best shutdown corners in NFL. Similarly, Washington has also been working with the purple purse foundation to make women stand out of financial abuse.