Dawn-Lyen Gardner talks Queen Sugar spoilers, Oprah and Woman Empowerment
Updated On 05 Oct, 2017 Published On 05 Oct, 2017
Queen Sugar's midseason is hitting our small screen, read what the lead actress from the show has to say about this season and working with female directors.
To all the fans waiting for the mid-season release of Queen Sugar, good news as the filming has finished and so far two episodes have premiered. Surely everyone is curious about what this season has in store for us, and indeed, the star Dawn-Lyen Gardner letting out some spoiler before the premiere of the first episode left many making theories about the coming episodes.
Talking to a dedicated viewer, Gardner talked about the Season 2 spoilers, Oprah and female empowerment.
So what did she really reveal?
Gardner who portrays the role of Charley Bordelon-West since its 2016 premiere has so far in the series moved to her hometown of St. Josephine, Louisiana with her son Micah to overcome the grieve after scandalous marriage with NBA player Davis West.
In her hometown, she tends to the farm, 800 acres of sugar cane field that her father left behind. With her business ideas, Charley opens up a sugar cane mill becoming the first black woman in Louisiana. Leaving little to heal her broken marriage with all the ambition she moves on leaving her past behind. But then everything changes after her mother shows up in town.
Gardner said,"I feel like her mother coming is yet another piece of the puzzle, and in a way, it's sort of like she's just continuing to unpack, like literally and figuratively this season. That's what we're seeing. She is settling here; she has chosen to be here, she is now literally unpacking a new space. And you see her unpacking emotionally, acknowledging that there's so much under the hood that needed a tune-up for a minute."
The viewers will uncover that with the presence of her mother, normally calm Charley will turn into a doubtful and insecure woman. Her mother portrayed by Sharon Lawrence appearance raises questions of Charley's business decisions, personal life, and identity as a bi-racial woman.
Gardner explained, "It's so interesting to talk about this now because I've been living with this information for a year and a half, so at no point was this news to me. It was in every decision I made character-wise". "It was in every consideration I had, and I wove it into her ambition, I wove it in her need to prove herself, I wove it into her desire for her family to accept her or love her."
This season pack many dramas and emotional scenes as we witness her accept who she is and watch her deal with belongingness as she starts a new life.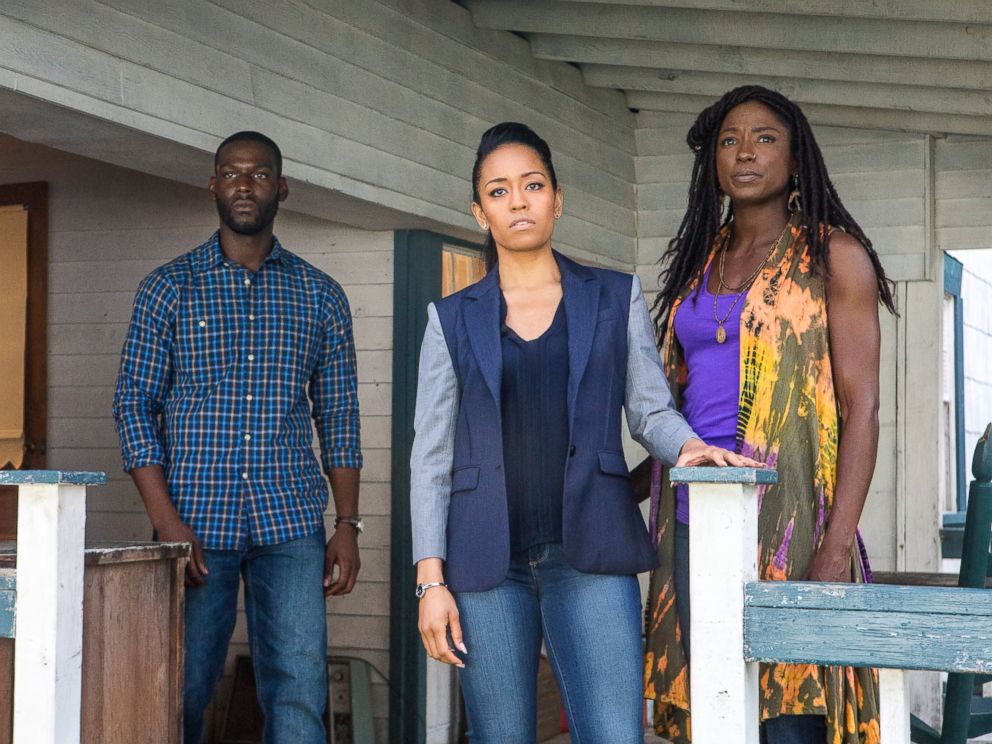 A scene from the show
"I struggled with belonging, and I think that what's really at the center of Charlie's fracture is the sense of belonging. I think we see that in her relationship with the community farmers, even within her own family."
Gardner says she is excited for this season so woman across the world can relate to her character. The initial concept of 'women in transition narration' was what attracted her to this role and being able to play that role and inspire many women all across the world is what she prides in.
"I loved this idea that there was this woman before all the armor came on. There was someone before the perfection and before all the structures are in place. And I felt like I know that moment."
She adds, "I felt like a lot of women know that moment. The moment before you have to get yourself armed for the world. And especially if you're in an industry where you're not supposed to be."
She even sheds light on the situation of women in Hollywood. "For years before this project, I had been talking with friends of mine about women in business and about going on set, guest starring on shows, and walking into all-male environments from either the casting room to the actual set and how normalized you make that," Gardner said. "But it has a cost; you feel other-ed, you just do. There isn't necessarily a leaning into your point of view or offering of the woman."
Queen Sugar premiere red carpet
She also talks about working with female directors. The behind-the-scene team for this show is driven by females from Oprah as producer and Ava DuVernay being the director who directed the first two episodes and enlisting another talented female director Julie Dash to bring new colors to the show. She says." "It's just a dream come true, and I hope this paradigm shift extends to Hollywood." She also adds," It destroys the stereotype of who is entitled to that role. Who gets to do that work. Who gets to lead a set, Who gets to lead the storytelling, really, of a project." She says that having female directors brought a new freshness and a new perspective to these women-centered stories.
To know more about Dawn-Lyen Gardner's relationship click here.