One of the well-renowned singing sensation of the 90's, Lenny Kravitz is the legend of American music industry. His versatile songs, mixing up R&B, funk, jazz, reggae, hard rock, pop, folk and so on has helped him win four Grammy's and several other prestigious awards.
Struggling through his parent's divorce during his childhood, Lenny has bitter experiences with divorce and marriage. He divorced his actress wife Lisa Bonet in 1993 and now he's dating with his new girlfriend Whitney Cummings.
So, let's find out what's all this fuss about in this section.
Lenny Kravitz Divorced his wife Lisa Bonet in 1993
The "Again" hitmaker, Lenny was happily married to his actress wife Lisa Bonet for six whole years. The duo tied knots in the year 1987 organizing a grand wedding in Las Vegas and they seemed really happy together.
As good things never last forever, this marriage also faced it's share of sad ending as the couple filed for a divorce in the year 1993 and finally parted ways.
On Oprah's Master Class, Lenny confessed his bitter-sweet memories of marriage with his ex-wife Lisa.
Source: Rollingout
He told: "We were very young and it was wonderful. I see now what it was all about', It was really all about bringing Zoe to the planet."
DailyMail.co.uk claimed that the pair parted ways based on the mutual understanding, citing "irreconcilable differences" and agreed on raising their daughter "Zoe" together without filing for custody.
However, rumors have that Lenny was accused of infidelity which caused the beautiful bond to crumble down, as reported by Rollingout.com.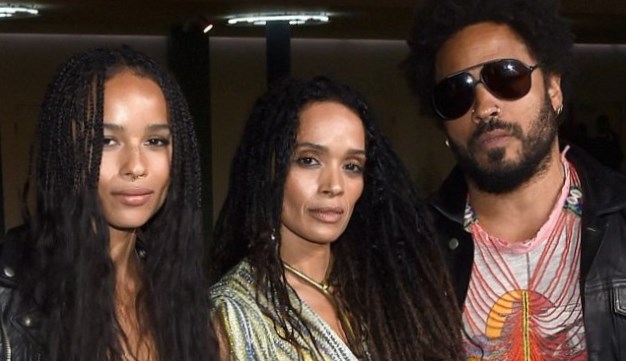 Source: Starchanges.com

Lenny and Lisa are still a family
Recently, on February of 2016, Lisa, Lenny and their beautiful daughter, 27, were seen together at the Saint Laurent Fashion show in Los Angeles.
Source:Rollingout.com
The amazing three looked like perfect family without any personal issues and they got along really well. Also on Oprah's Master Class in 2013, Lenny added saying that he and Lisa are best friends and he, Lisa's new husband, their daughter and kids were a one big, happy family.
Here's a video of Lenny Kravitz talking about His Ex-Wife, Lisa Bonet on Oprah's Master Class.
Lenny's new girlfriend
Recently on June, the 52-year-old rock star, Lenny was spotted getting close with the comedian actress Whitney Cummings.
HollywoodLife, reports that the duo has announced their relationship publicly and together they have a great chemistry.
Source: HollywoodLife
Also, Ok! magazine claims that the couple has recently started dating and they are having a lot of fun together.
Not only that, Lenny and Whitney were caught going out on a romantic date at Nobu in Malibu, California on June 6 and both looked really happy together.
Source: X17
Well, it seems like the couple is going really smooth with their relationship and we hope to hear the wedding bells soon for this amazing and unique couple.
---