Kim Kardashian living happily after her third divorce, Know about her realtionship and affairs
Updated On 27 Jan, 2019 Published On 16 Dec, 2016
Kim Kardashian is an American reality television personality, socialite, businesswomen, and model. When it comes to dating life in Hollywood, Kim Kardashian has always taken the top spot.
Kardashian's dating history is definitely one of the most gossiped of the last decade. Similarly, some of her clear affairs and long-time relationships with several of the A-list bachelors of show business. Let's find out more her married, divorced and affairs.
Kim Kardashian's relationship and affairs
Kim dating history confirms of her joining up with a number of popular male celebrities, including rappers, record producers, models, television personalities, and professional sportsmen.
While talking about her dating life, let's start with her first ex-husband Damon Thomas.
Kardashian's tied up with one of the famous songwriter and Grammy Award Winning producer Damon Thomas in 2000. When she got married to Damon Thomas, she was just 19 years old.
Also Read: 'Kim Kardashian a fame-whore' claims her ex-husband Damon Thomas
They divorced in February 2004, because of Kardashian's suffered domestic violence at the hands of Damon.On the other hand, Thomas said that Kim made up the claims to get "a lot of money" out of him.
Kardashian's and her second ex-husband Kris Humphries relation
After a breakup with alleged beau Gabriel Aubrey, Kim started dating yet another athlete: New Jersey Nets player Kris Humphries. After six months of dating, NBA player Kris Humphries proposed to Kim with rose petals and meant out "WILL YOU MARRY ME?"
Kim Kardashian with her second ex-husband Kris Humphries in the wedding ceremony
Later Kim and Kris were married in a lavish wedding attended by some of the biggest names of Hollywood on August 2011. They both announced they were separating just 72 days later of marriage on October 31, 2011.
Kim and her third husband Kanye West relation
It's been a whirlwind few years for Kim Kardashian and rapper, songwriter, fashion designer, record producer, and entrepreneur Kanye West, who started dating in spring 2012.
In May 2012 they spent a week in Cannes together for the city's annual film festival.
In June 2013, they welcomed their first baby daughter, North West and they got married in May 2014 and greeted son Saint West in December 2015.
Don't Miss: Kim Kardashian and Kanye West mark the first anniversary
After two years their wasteful weddings, the duo is looking more in love than ever.
Kim Kardashian and her husband Kanye West with their children
Recommended: Kim Kardashian and Kanye West Welcome Baby No. 3 via Surrogacy! Fans Set Theory That Kylie Jenner Might Be The Baby's Surrogate Mother
Lastly, we can say that, after three divorced, Kim Kardashian had a lot of affairs and rumors in media, but she stayed happy with her life till.
Kim affair with Ray-J
After divorced with Thomas, Kim met rapper Ray-J in 2005. They two are said to be on and off again for nearly three years before things ended for good. In 2007 their split got really messy when a sex tape they made was picked up for distribution by Vivid Entertainment. After that, they broke-up their relation.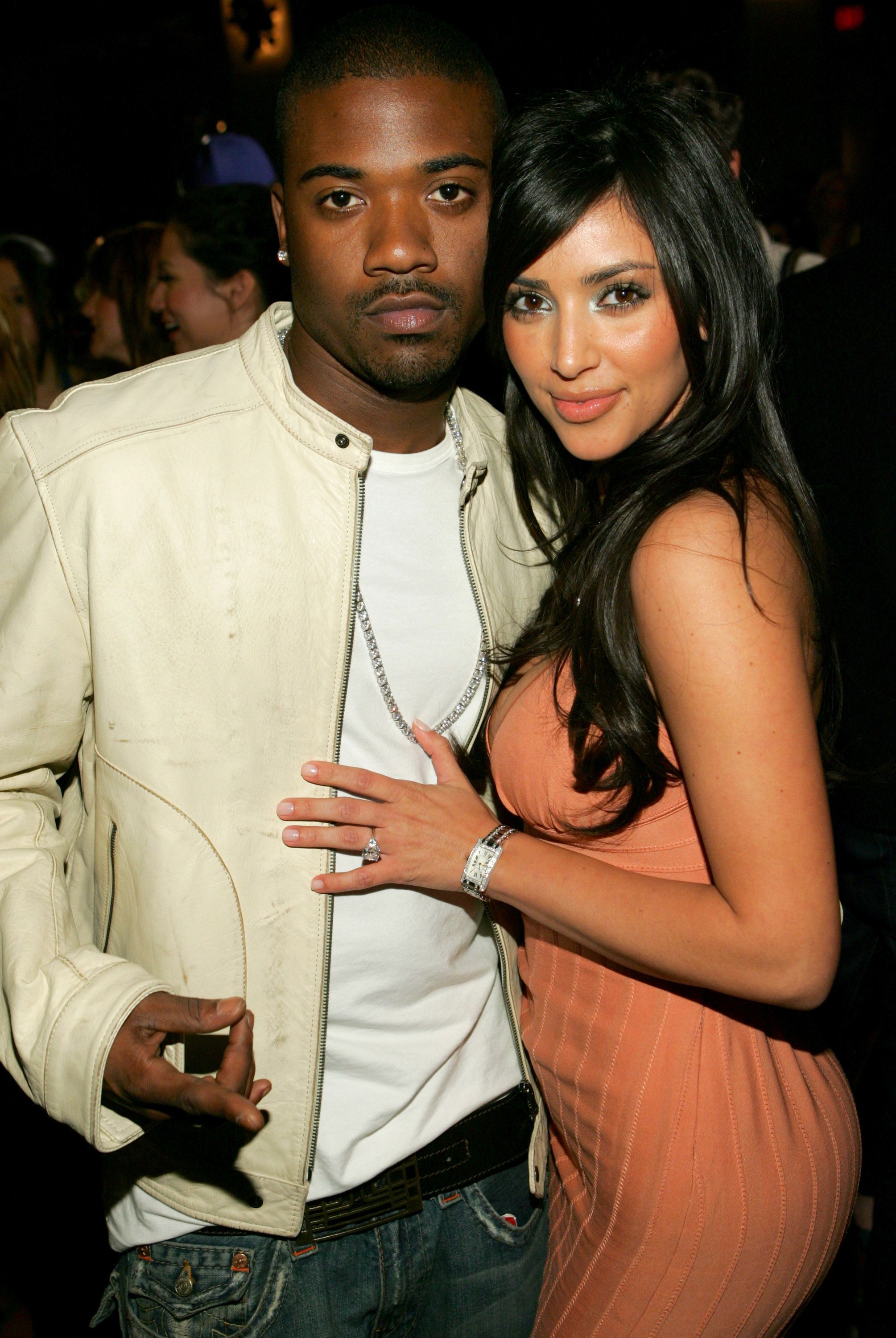 Kim affair with Nick Lachey
After broke-up with Ray-J, Kin start to date 98 Degrees singer Nick Lachey for only a few months. They were photographed together a couple of times, holding hands.
Kim affair with Nick Cannon
However, Kim broke with Lachey, she started to date Nick Cannon in briefly in late 2006. After Kim's sex tape got released, the couple broke up after a year-long relationship.
Kim Kardashian's affair with Reggie Bush
Moreover, later broke with Lachey Kim dated NFL star Reggie Bush. The two pairs quickly became a power with pictures. After reconciling, it seems they couldn't make it last. Rumors say that Bush's family had issues with Kardashian's somewhat variable past.
Kim Kardashian's affairs
Likewise, Kim had a fling with football star Cristiano Ronaldo. They two had short-lived romance, with paparazzi catching them to kiss outside a restaurant in Madrid. For a while, Kim seems to more recently, Miles Austin, a wide receiver for the Dallas Cowboys. They called it quits in September 2010, with sources say their crazy schedules made dating too difficult, so they broke up.
Conversely, Kim Kardashian rumored to be with Michael Copon, John Mayer, and Gabriel Aubry. She is one of the most controversial models.