Good News Guys!!! American artistic gymnast Simone Biles recently reveal what type of Boyfriend see wants, take a look
Updated On 16 Apr, 2019 Published On 21 Apr, 2017
American artistic gymnast recently revealed her mystery boyfriend, once dated fellow gymnast Arthur Mariano and has been named in Time's 100 most influential people.
Simone Biles, most popular as the queen of USA Olympic gymnastics, recently spilled secrets of dating life, two weeks back in an interview with ET Online.
Biles, who isn't a wildcat when it comes to dating and relationships, surprisingly, shared that she's a new mystery man in her life.
To make things more interesting, she also told how her first date went but didn't revealed the name of the mystery man.
For more details, keep reading down!
Olympic gymnast diva Simone Biles revealed her new love life: Dating a mystery man
Being an Olympic champion has gained the talented 20-year-old fame and success all over the world, but cost her no time for relationships and dates.
"
Simone Biles competing on the balance beam during day 2 of the 2016 Rio Olympics,
Source:
ABC News
However, despite her busy schedules and exclusive life, she's finally got some 'private' time to go on a date and she confessed that it went pretty well.
Olympic champion Simone Biles at 2016 MTV Video Music Awards,
Source:
DailyMail
In an interview with ET, she shared that she never had a real boyfriend in her life and went on one proper date.
She quoted,
"I have never had a boyfriend in my life, and at 20 years old I feel like you should have gone through those things and gone on dates. I have been on like, maybe one proper date."
When her fellow Dancing with the Stars partner, Sasha Farber asked her how the date went, she told that it went pretty well and had a great time.
She further added that her mystery man is hot and has a good body, but remained coy about his name and other details.
Biles also stated that she wanted to date the handsome and heartthrob actor Zac Efron with whom she's met a couple of times.
Simone taking a selfie with actor Zac Efron,
Source:
E Online
On her recent appearance on The Ellen Show, Biles confirmed that she's never had a boyfriend and shared that she would love to have one who has a good sense of humor, good personality, and someone who's tall and handsome.
Well, we are going crazy to know who could be the leading man of this young, vibrant and exceptional beauty. Fingers crossed!XXXXX
Simone Biles once dated Brazilian gymnast Arthur Nory Mariano
The beautiful and charming Simone might not have a real boyfriend but she once sparked a romance with a fellow Brazilian gymnast, Arthur Nory Mariano.
Simone Biles rumored boyfriend Olympic gymnast, Arthur Mariano taking a selfie,
Source:
Daily Mail
Back in August 2016, she became pretty close with Mariano and was spotted sharing serious PDAs together.
Mario with rumored girlfriend Simone Biles in March 2014,
Source:
Daily Mail
In one of her posts, she shared an adorable picture of her hugging the Brazilian hunk and captioned it, "My Brazilian Boyfriend" with love and kiss emojis.
my brazilian boyfriend @arthurnory pic.twitter.com/nhwPZWwPL7

— Simone Biles (@Simone_Biles) July 29, 2016
Simone and Biles stood out one of the ideal pairs as both are Olympic champions and have attended a lot of championships together.
congrats, so proud of you @arthurnory pic.twitter.com/O9PKchtbJn

— Simone Biles (@Simone_Biles) August 15, 2016
The alleged couple grabbed headlines all over the media but their relationship did not last long as the couple split soon after few months.
And now, the artistic beauty is all set to start a relationship with her mystery man and it's pretty clear that she's moved on from Arthur. But before leaving, let's take a glimpse at Simone's outstanding career.
Simone Biles: Born as a winner
Most people decide what they want to be after 20's but not for Simone as she is undoubtedly born to be an Olympic winner.
Her career began at an early age of 14, when got a third place at all-around, first on vault and balance beam and fourth on floor exercise in 2011's American Classic Champion.
Simone Biles in an interview with ABC News, Source: ABC News
After her exceptional performance, she got professional training and competed in every single state-based gymnastic championships.
Her success in American Classics got her the golden opportunity to compete at 2012 USA Gymnastics National Championships, at a national level, which became a major breakthrough in her career.
And now, she's the one and only 2016's Olympic individual all-round, vault and floor gymnast gold medalist.
She's a 3X world floor champion, 2X world balance beam champion and 4X United States National all-round champion.
Simone Biles after winning gold medal at 2016 Rio Olympics, Source: Time
This is not it guys, there's more. Unless you are Tiger Woods or Michael Phelps, as an athlete, you can't expect to earn billions, but the same cannot be said for the young gymnast.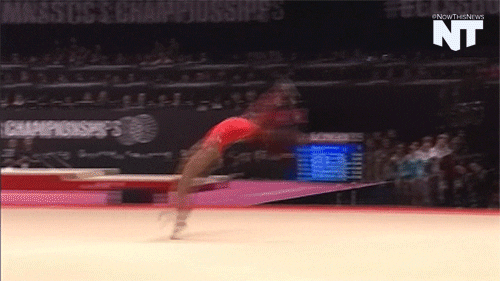 Biles had already won more than $2 million prize money and several endorsements before competing for Olympics but after her solid win, her net worth has been estimated to be 2.5$ millions.
Just yesterday, on April 20, 2017, Simone Biles was even named in Time's 100 Most Influential People list.
Others joining the four-time Rio gold medalist include Lebron James, Colin Kaepernick, Ivanka Trump, Margot Robbie and Alicia Keys.
All in all, MarriedWiki wishes Biles, unprecedented success and happiness and hope she finds right man this time.